Ridelofun™ Shock Absorbent Saddle Cushion
$44.97 $89.99
BUY 3 GET 4th FREE WITH FREE SHIPPING
If You're a Cyclist You Might Want to Read This...
A recent study called "The impacts of vibration on bodily stress while cycling" discovered that cycling causes harmful vibrations to the body.
"MY BIKE RIDES ARE NOW MORE COMFORTABLE AND PAIN-FREE - Pascal

 

 M.

 

"
The Ridelofun™ Shock Absorbent Saddle Cushion is the easiest and most effective way to make your rides enjoyable and painless.

It absorbs the harmful vibrations that would initially be sent to your body. It only takes a few minutes to set it up and your bike rides will never be the same ...
(Led by John Parkin, Ph.D. in transport engineering)
Because of a seated position, a cyclist can't use their feet and knees as a natural shock absorber.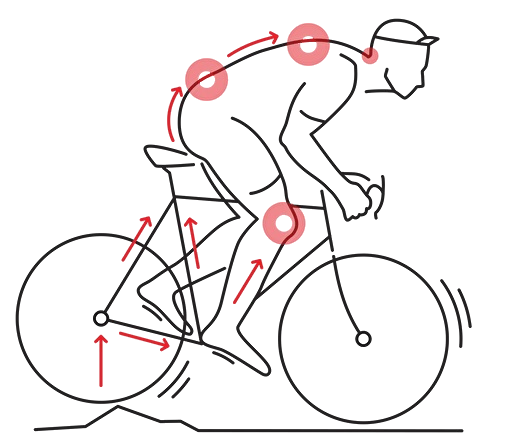 In fact, in 1 hour of riding, you are exposed to the same amount of vibrations as a tractor operator during a day of work.

Invest In Your Health. This Isn't Just Another Bike Accessory.
How it Works
The Air Saddle reduces the impact on your body.
When a bump is hit, the spring absorbs 99% of the shock!
This makes your bike more comfortable & keeps your body healthy!
Never Feel Pain Again
Cyclists often experience pain while riding in their:

Hands/arms
Knees
Lower back
Buttocks
Now that we understand the root of the problem, we can provide a simple fix that eliminates any pain or discomfort.
Do your body a favor. After all, you are cycling to stay healthy...
Easy to Install by Yourself
You don't need special tools or an expert to install this.
Anyone can do it themselves in just 5 minutes.
SPECIFICATIONS: 
Color:

 Black.

Size:

 

About 16 * 5 * 8.5cm (L * W * H).

Compatible with:

 

All types of bikes (MTB, Mountain, Road, etc.)

Weight:

 

about 340g.

Material:

 

high-quality alloy spring steel (main body) 
INCLUDED IN THE PACKAGE: 
x 1 Ridelofun™ Shock Absorbent Saddle Cushion
Frequently Asked Questions:
1. Will it break?
No! Safety is our number one concern.
We spent hours and hours testing different materials that can withstand the constant strain. We ended up using high-quality alloy steel, which is strong and durable.
2. Will this work on my bike?
Yes. It's compatible with every bike on the market.
3. How much weight can it support?
A maximum of 150 kg (330 lbs).
4. Will this raise the height of my seat?
Yes, it will raise your seat by 2-3 inches.
Get Yours Today 50% OFF With a Lifetime Warranty!
These are literally the best items you'll find around the internet, everything we sell is something that we use ourselves in our daily lives. Enjoy and browse our wide range of amazing products.
** 30-Day Money Back Guarantee ** 
Get yours below NOW! NOT AVAILABLE IN STORES!
Note: Due to High Demand, Delivery may take 7-14 days to arrive so we appreciate your patience!
❤️❤️❤️ PLEASE MAKE SURE YOU SHARE ❤️❤️❤️
---